Pizza Style Monkey Bread
Posted:
Mon May 24, 2010 12:57 pm
Pizza Style Monkey Bread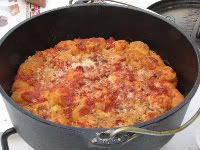 Dough for 1 loaf of bread (or two tubes of refrigerated biscuits)
1 Package of Dry Onion Soup Mix
Parmesan Cheese
Italian Seasoning
Pepperoni (or toppings of your choice) - I chip it into about 1/4 inch pieces
Pizza Sauce
Butter
Cut or tear the dough into about 1 inch pieces
Add Onion Soup mix, 1+ cups of Parmesan Cheese, a couple of Tablespoons of Italian Seasoning in a zip top bag.
Melt one cube of butter
Place the dough in the cheese mixture to coat—do it in batches for better coverage.
Put it into a prepared Dutch oven.
Mix in about 6 oz of pizza sauce and the pepperoni
Dump the remaining cheese mixture on top
Pour butter over the top
Bake at about 350 for 20 minutes until done and brown on top.