Carmel Apple Crisp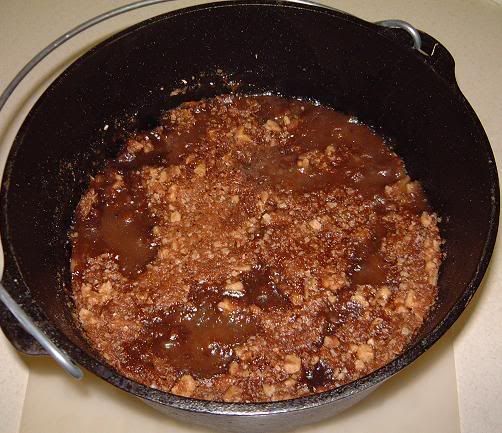 Filling
8-10 Granny Smith apples; peeled, cored and sliced
2Tbs lemon juice
2/3 cup sugar
1/4 cup flour
2tsp ground cinnamon
1 tsp ground nutmeg
1/4 tsp ground cloves
1/4 tsp salt
1 12oz jar caramel sauce
Topping
1 cup brown sugar
1 cup maple syrup
1 cup flour
2 cups oatmeal
1/2 cup chopped pecans
1 cup butter
In a buttered 12" D.O. add apples, and lemon juice; stir to coat the apples. In a separate bowl combine the sugar, flour cinnamon, nutmeg, cloves, and salt; mix well. Pour dry ingredients over the apples and stir until apples are well coated. Spread out the apples and pour carmel sauce over the top.
In a bowl combine brown sugar, flour, oatmeal, and pecans; stir to mix. Using a fork, mix in melted butter to form coarse ctumbs. SPread topping evenly over apples.
Cover D.O. and bake using 10-12 briquettes bottom and 16-18 on top for about an hour.