Mediterranean Beef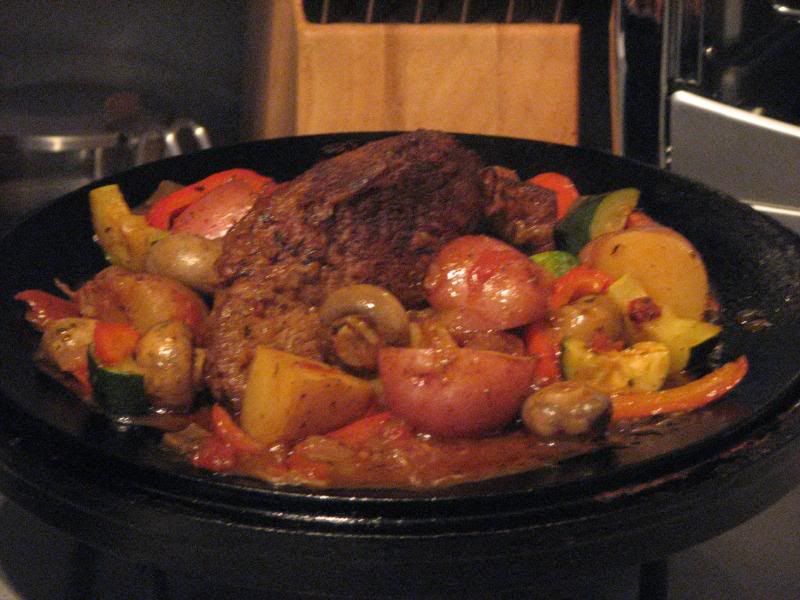 ¼ cup flour
1 ½ teaspoons salt
¼ teaspoon black pepper
4 pound chuck roast – well trimmed Pancetta
2 teaspoons dried Rosemary
3 tablespoons olive oil
2 medium onions
6-8 cloves garlic – crushed through a press
2 cans (16oz crushed tomatoes)
2 cups red wine
1 ½ teaspoons thyme
1 bay leaf
1 ¾ pounds red potatoes
2 red bell peppers
1 yellow or orange pepper
1 zucchini
½ pound small mushrooms
¼ cup chopped parsley
Yellow & Red bell peppers & Rosemary or Bay Leaves for garnish
1. On a plate, combine the flour, salt and black pepper. Lightly dredge the roast in the seasoned flour. Reserve the excess dredging mixture.
2. In a Dutch Oven, warm 2 tablespoons of the oil until hot but not smoking. Add the roast and cook until browned on all sides.
3. Meanwhile, coarsely chop the onions.
4. Remove the roast from the Dutch oven.
5. Brown Pancetta
6. Add the remaining 1 tablespoon of oil and the onions. Sauté the onions until the brown. Add the garlic and sauté for about 2 minutes.
7. Add the reserved dredging mixture to the Dutch oven and stir until the fat absorbs the flour. Add the tomatoes, wine, rosemary, thyme and bay leaf, and bring the mixture to a boil. Return the roast t the Dutch oven and bring the liquid to a boil. Reduce the heat, cover and simmer for 2 hours, turning the roast every ½ hour.
8. Meanwhile, halve the potatoes. Cut the bell peppers into strips. Halve the zucchini lengthwise and cut it into 1-inch lengths.
9. When the roast has cooked for 2 hours, add the potatoes, bell peppers and whole mushrooms to the Dutch oven. Re-cover and cook for 30 minutes.
10. Add the zucchini and cook for 5 minutes longer. Remove the bay leaf. Stir in the parsley, garnish and prepare to serve.